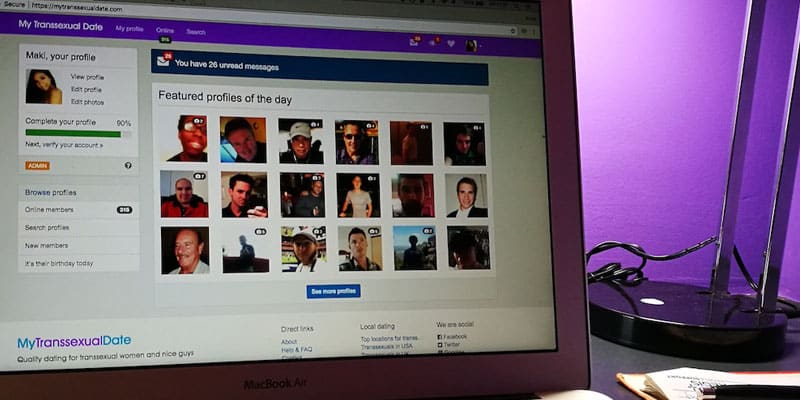 3 Factors for a Successful Dating Profile
This post was last updated on .
I know that it may sound too technical but we didn't wind up with a dating profile in My Transsexual Date to just fail. We signed up for the ultimate goal of true love. In any type of success, there's only 1 key to achieving it and that is by good ole' strategy.
Today, I'm going to share with you the 3 most important factors in having a successful dating profile. Let it be known that everything I'm going to share is solely from my life experiences. Please take these tips with a grain of salt.
First Impression
This is very imperative when it comes to attracting someone. Think of yourself as Anne Boleyn and you're living in the countryside expecting King Henry the 8th to notice you (I'm not saying that you want to be beheaded so please don't take things literally). Moving on… My Transgender Date is the catalyst in helping you get that partner. King Henry the 8th's wandering eyes perused over the wide selection of beautiful country girls and he had the right to do so, like any other human being looking for a life partner. You have to present yourself in a way that you'll stand out and will surely have him beguiled… besotted even. Don't miss the chance to have his eyes focused on you. Give him the best first impression you could leave. Deliver your best foot forward. So how will it apply in a transgender dating website Amanda? Calm down Bonnie and say cheese!
Put your BEST photo up as your profile avatar. Make it real, make it you, but remember to make it beautiful. Choose a photo with modest clothing but with your best smile. I've read before that people who apply for jobs with a photo smiling and SHOWING THEIR TEETH are more likely to be employed than people who don't smile at all. Showing your teeth will give you a more trustworthy and likable appearance. I don't like my face when I smile too much but I've noticed that when my teeth are showing in my Facebook account, I tend to get more likes. Try it for yourself.
Introduction
No sane person would want to have a partner who thinks he/she is the proof of God's existence. Keep your profile honest BUT down to earth. I don't know how you are like but if you're naturally arrogant, tone it down a bit.
I know how that sounded contradictory but you get my gist. There's a fine line between confidence and arrogance and you wouldn't want people to be attracted to you because of your phony façade. What will happen when they discover that you're just like everybody else who has weaknesses? Please don't get too melodramatic on your profile either. Nobody wants to start a relationship with someone who has a lot of baggage. We get it, you have problems, but you don't have to share everything to a random stranger on the first date AKA first visit to your profile. Sometimes, I see guys writing "I'm a divorcee with an abusive ex-wife who would bring me down a lot of times and I'm looking for someone supportive and etc. etc.". Major TURN OFF!
Exclusivity
If you happen to find someone in My Transsexual Date who you think is very compatible with you, focus on him/her! Make your eyes wander no more and spend your free time getting to know that person on a deeper level. Too many options = too much micro efforts and nobody wants to be with someone who has very little to give. How would you feel if you're starting to like someone but the bitch only replies to you 2 days after? Now you know.
Anyways, I wish you the best of luck. I know that you'll find your dream transgender date soon. Keep going!
xx
Amanda