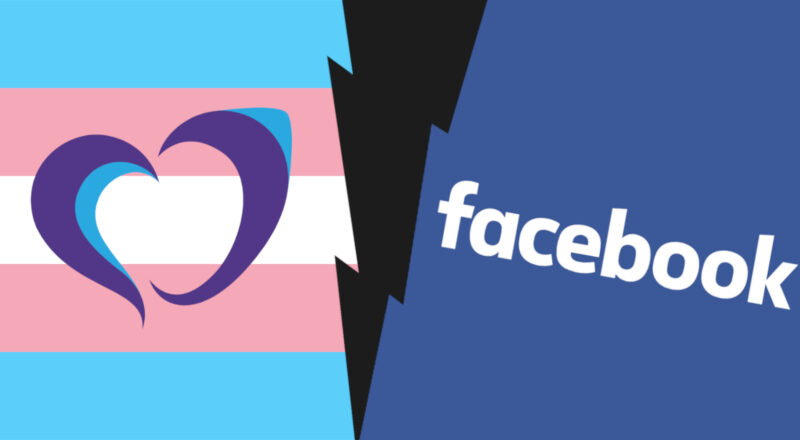 Does Facebook have anti-trans biases?
This post was last updated on .
Like many love stories, the beginning of the relationship between Facebook and My Transgender Date was great. But many great love stories that start out right can also end in disaster. And this is the case for us with Facebook. It might not sound like a big deal. But does this whole Facebook issue only affect us and our website?
No, it doesn't. In fact, there is a bigger problem here. With how Facebook is dealing with our issue, we could say that they might have anti-trans biases and this could affect the trans community and the rest of the LGBT spectrum as a whole.
Facebook + My Transgender Date = 💔
At first, we thought it was great to offer the possibility for our users to sign up and log into My Transgender Date through their Facebook accounts (ie "Facebook Login"). Creating an account and logging in was as easy as one click – no need to handle forgotten passwords and all that hullabaloo. From a user's perspective, it was very convenient. About 20% of our members decided to go with that option, and it worked very well for years, until …

September 2021 – Facebook sent us an email asking for a RIDICULOUS and IRRELEVANT amount of information about our company. They even went as far as threatening us with an ultimatum: provide what we ask for within 14 days, or we disable your app 😳
What could we do? Of course we provided as much as we could, including confidential information about our business. What else could we do other than to comply? If we didn't then 20% of our members were at risk of being locked out of their accounts. Facebook completed the review and we thought we were out of the woods for some time. But we were very wrong. It was a long and arduous process that didn't amount to anything.
October 2021, another Facebook review
December 2021, a third review.
March 2022, a fourth review.
April 2022, a fifth review.
11 May 2022, on the same day, Facebook suspended:
19 May 2022, another Facebook review
The last "Data Use Checkup" request was scheduled for June 30, 2022. But we couldn't complete it since Facebook suspended Cyril's account (which was the only admin account authorized to do it). The deadline for providing all the documents they've requested for the Data Use Checkup is set for August 28, 2022. Therefore we expect the option for Facebook Logins to completely stop working on My Transgender Date by this date.
During the course of this whole process, we only made contact on May 19 with an actual representative for Facebook who made it clear to us that they didn't want to provide us with any help regarding the suspension of our personal Facebook accounts.
All the details are available here: Good bye Facebook (a Facebook horror story)
Are there other victims of Facebook?
We've asked ourselves why Facebook did this to us. Why did we have to go through so many reviews? Why were we asked for a lot of details just to be suspended? Our website only promotes decent dating and our team of moderators (who are trans) work hard every day to ensure that our members remain respectful towards others. We only had the lowest level of access to our members' Facebook data (just their Facebook ID, which is all we need for Facebook Login), so clearly we posed no threat to Facebook or to our members' privacy.
We did everything more than lawfully and with the utmost respect for Facebook's guidelines and our members' privacy. Did they make us jump through all these hoops just because we are a TRANS dating site?
After much deliberation, we tried checking other transgender dating sites if they've also experienced this issue with Facebook. Thanks to the Wayback Machine, we were able to know if other sites have used the Facebook Login option in the past and whether they'd stopped using it for no apparent reason. And you know what? We aren't the only victim of Facebook!
On 7 other trans dating websites we analyzed, only 3 of them used Facebook Login in the past.
One site removed the "Sign up with Facebook" button after February 2021. They have kept the "Log in with Facebook" button as of the moment
Another site removed the "Login with Facebook" button after April 2019
The last site we've checked is currently under maintenance, so we can't know for sure if they are still using the Facebook sign up or login feature.
We were also able to find a bisexual dating site that removed the Login with Facebook feature after February 2020. We didn't check the entire LGBT dating site market, but for sure there have been other victims.
Without any answer from Facebook, for us the situation is pretty clear. They have an issue with LGBT dating websites using their sign up and log in feature and having Facebook pages.
Here are some of the reasons why I think Facebook suspended us:
There are ignorant Facebook moderators who miscategorise "transgender content" as "adult content";
There are hateful Facebook moderators who aren't ignorant but specifically want to shoot us down (e.g. for political reasons), or;
This could be a coordinated attack from a competitor/hater (e.g. mass reporting).
Your guess is as good as mine. In any case, Facebook is highly dysfunctional for allowing such a situation to happen, providing no explanation and offering no way to talk and fix mistakes.
Are all the Tech Giants (GAFAM) like Facebook?
We had a huge issue with Google. We were flagged as adult content by the Google algorithm and filtered out when SafeSearch was activated. Was it a big deal? Was it problematic? And did we have a way to fix this?
First, not everybody knows what SafeSearch is. What were the consequences we had to deal with with SafeSearch? We disappeared from the Google search results when Safesearch was turned on. It was a disaster. We had so many awesome people from our community who told us we couldn't be accessible through Google anymore.
We worked hard to update our content in 10 different languages to better match Google's criteria. Then, we started to appear on Google again, but it took quite a while to fully solve it. We decided to post a help message on the Search Console Help Forum of Google and received answers almost immediately (actual Google employees read the forum and provide help). See Facebook, it's actually possible to be a giant multinational corporation and still behave humanely with your users.
Some days after that post on the forum, the issue with Google was fully fixed. So we can definitely thank Google for having a way to fix the issue and for giving us the access to actual people for answers.
This is unrelated to the issue, but 3 months after the Safesearch problem we were invited by Google for the 3rd "Pride Conversations" 🌈
So the answer is no! Not all the Tech Giants are like Facebook. Because of our firsthand experience, we can say that Google is way better. Facebook definitely does not compare to Google – Facebook is a ZERO.
What's next for the Facebook case?
Unlike Google, Facebook is just unreachable. We can only hope that this company doesn't have any particular issues with transgender dating, trans people, or even worse, all of the LGBT spectrum. We also hope that this situation is because of an algorithm, and not a human who decided that trans people don't have the right to a safe place for dating. In any case, we can't do anything except spread awareness regarding this issue with Facebook.
If you are concerned by our situation and the implication it has to the trans community, share it on your blog and your social media. Spread awareness and amplify our voice so that this deaf corporate giant actually hears us. And who knows? This may be the only way we can protect many other LGBT businesses.