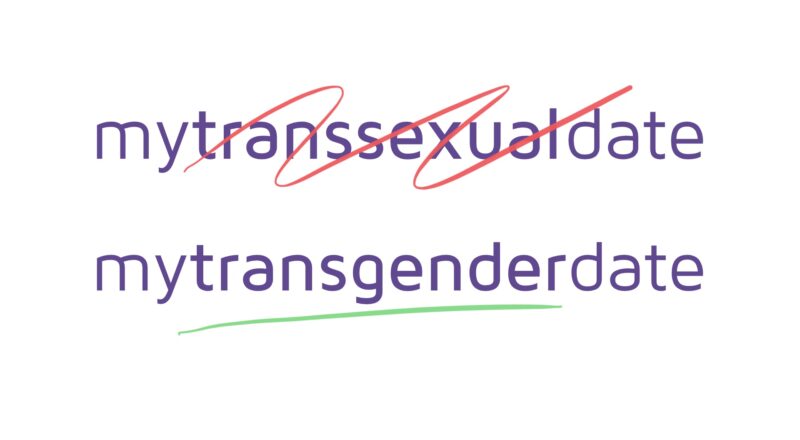 "My Transsexual Date" becomes "My Transgender Date"
This post was last updated on .
In 2021 we decided to rename My Transsexual Date into My Transgender Date. Why the change? Let me explain everything.
A little bit of history
We initially launched our dating site in 2013, under the name My Ladyboy Date. As the name implies, it focused on Asia. In 2014 we launched a second website – My Transsexual Date – in order to cater to a more international audience.
Note that My Ladyboy Date and My Transsexual Date, despite having a different name and URL, are in fact just one website. They share the same database, userbase etc.
Back then, we debated if we should employ "transsexual" or "transgender" in our name. My reasoning was that transgender was very Western centric. In fact in Latin America (which has a pretty big trans population), transexual (Spanish for transsexual, with only one "s") is still more employed than transgénero (Spanish for transgender). In the end, in order to be more inclusive, we decided to go for transsexual.
Why the change
It's 2021 now, and things have changed. Trans people have gained a lot more visibility. We've had trans celebrities like Caitlyn Jenner. We've had more trans characters in movies and series. We've had the rise of Gender Theory, progressive ideologies and political correctness.
In 2021, it is clear that the term "transgender" has gained an enormous popularity over "transsexual", and that a majority of trans women / trans men prefer to employ transgender rather than transsexual. And it seems to be heading that way in Latin America as well (as per Google Trends), albeit at a slower rate.
Transsexual, despite being a totally valid word (and very accurate in the context of our site), has lost its popularity and usage, and is even perceived as offensive by some people now.
So, considering this trend, and because we care about how our members feel, it makes sense for us to rename our website accordingly. I hope this change will be welcome 🙂