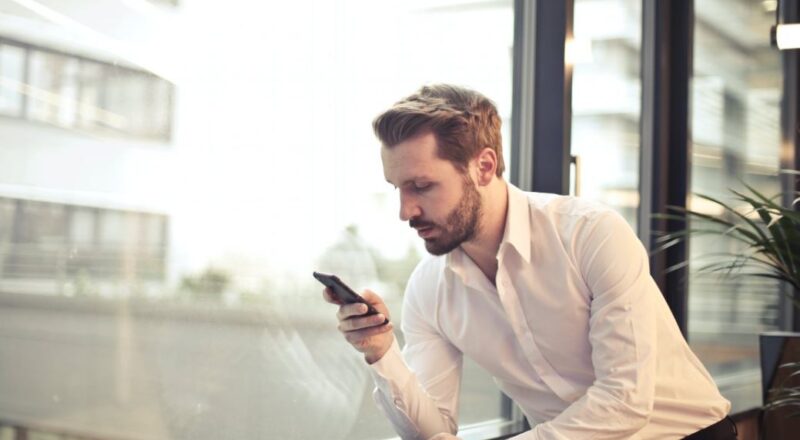 How to tell if a man is into you on a Trans Dating site
It's easy to tell if someone likes you but it's harder to know whether someone is really into you. If you are not good at reading signals and you're a single trans woman in My Transgender Date, this is the perfect guide for you.
1. He's very polite and respectful
Most guys who are too much of themselves and forget that some people come with boundaries are the ones that are probably not into you. They have a mindset of not having anything to lose so they are not afraid whether the things they say or do will negatively impact your impression of them.
Now, if a guy treats you with the utmost respect and has a polite demeanor in your presence, expect that he thinks of you more than just eye candy. However, please know that some guys are just innately respectful so don't think that every guy who's polite to you is automatically into you.
This is why you should continue reading to get to know if he's the whole package.
2. The messages are consistent
Most men are naturally predators. Think of yourself like a gazelle in the desert and he's the lion who has his eyes on you. You're now locked into his vision so he will do the absolute most in order for you not to escape.
This means that he will always try to be on your radar so that you won't get away that easily. Apart from the severity of his messages, expect that everything he will say is consistent with everything he's about to say in the future.
Because he's afraid you might think of him as a liar, he will think twice before formulating too many lies that he won't be able to keep up with.
3. He won't push you to "move to another platform" immediately
In connection with respect and the predator-prey analogy, yes, he won't do anything that will scare you away. So unless you're the one who suggests moving to another platform, he will keep communicating the way he thinks you're most comfortable with.
When a guy asks for your number on the get-go or he asks for your IDs in other instant messaging platforms, expect that he's just adding you to his list of "options".
A guy who's really into you won't think that you're just Option A, B, C, etc. He's going to think of you as THE ONE.
4. Non-intimate conversations
This is important in a healthy relationship. And for sure, you're not someone who's only looking for companionship. But you must know that if a guy makes it the center of his communication with you, he's not that into you.
A guy who's willing to talk about other stuff apart from his manhood is someone who has a genuine interest in you. Most especially if he is inquisitive about your passions, goals, likes, and dislikes.
5. Flirtation
Flirtation is part of getting to know someone on a romantic level. Someone who's not complimenting your looks or making you feel like you're wanted or coveted is probably just being nice to you.
But if he talks about the emotions that your presence makes him feel or other things that revolve around your attractiveness, he's probably into you. E.g., how kissable your lips are, how he likes how your hair flows, etc.
6. He doesn't try to impose kinky topics
There's another type of guy in a trans dating website who's not only into making love, but someone who has a wider interest when it comes to ways of how to have private pleasure. Yes, these are people with many kinks.
Nothing's wrong with having kinks, it only becomes negative when they're being imposed onto someone else. If a guy is truly into you, he will not force you into participating in weird activities, dress up in a certain uniform, ask for photos of your feet, and more.
In case you have forgotten about one of the former sections in this guide, read back about the part of respect.
7. No questions about specificities of your body
This section is if you haven't met the man in person yet. You may be wondering why this is relevant when all of us are entitled to have preferences. But your cup size, girltoy size, the girth of your panties, and more, are information that he should not be having before deciding to meet up.
If he needs this information, he should have the decency to put in the effort of meeting you and not make you feel like an adult worker he's trying to book for the night.
8. Daily communication
Added to the consistency of his messages, is the importance of how severe he tries to communicate with you. If he's really into you, he will do anything to incorporate you into his daily life, hence, he will maintain constant communication.
Thank your lucky stars because most men are not very good with this most especially in long-distance relationships. This is one of the most telling signs that he likes you more than just someone who's infatuated.
9. Meeting up
Most people who are on dating sites are the ones who have no luck in finding a partner within their proximity. This means that if he's planning to meet up with you, it will require money, effort, energy, and more from his side.
A guy who only sees you as a form of entertainment will not spend the things mentioned for you.
10. Profile deletion
Lastly, if you're lucky enough to find him, he will be adamant about getting your and his profiles deleted from the trans dating site you've met. Why keep a dating profile when you're already committed?
Please know that everything here is based on experience and is hypothetical. This guide may or may not apply to you so take it with a grain of salt.
If you don't have a My Transgender Date account yet, what are you waiting for? Kill the curse of singlehood and find your dream man today.
Good luck!