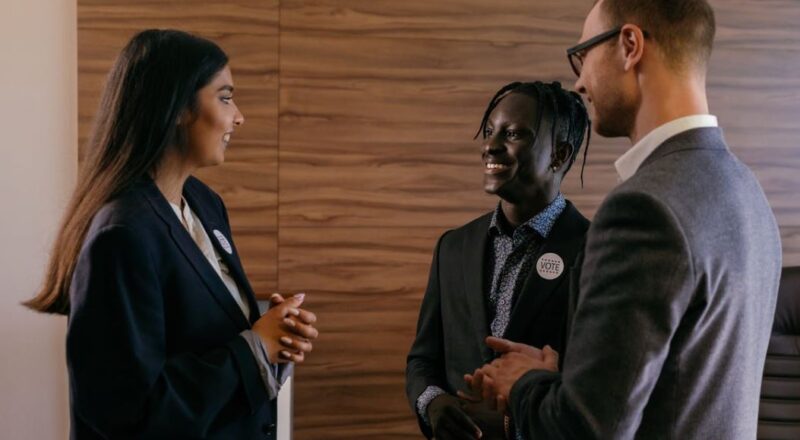 Transgender Politicians You Must Know
This post was last updated on .
The fight for gender equality and the rights of transgender people are far from over. This is why it's comforting to know that transgender politicians already exist. It is trans people who completely understand the struggle of what it's like to live as a trans person in today's bigoted society.
This is why trans politicians must take their respective seats in politics. With the power and proximity that they have in terms of changing the laws, they're going to have higher chances of truly making the must-needed change.
Today, we're going to enlist selected trans politicians from around the globe, where they're from, and what they're known for. Please know that this article was written not for any political agenda, but to introduce trans readers to people that could inspire them.
Amanda Simpson – Former Deputy Assistant Secretary of Defense for Operational Energy, U.S. Dept. of Defense
She became the first openly transgender woman political appointee of any presidential administration in the US. Born on March 26, 1961, in Chicago, Illinois, and of Jewish descent, she was known for her long career in aerospace and involvement in the Democratic party.
Simpson also served on the boards of the:
Wingspan Community Center
While she was working at Raytheon, she served on the boards of:
Raytheon Women's Network
Raytheon Global Women's Network
Raytheon Diversity Council
She is also an associate fellow with the American Institute of Aeronautics and Astronautics and served on its Systems Engineering Technical Committee from 2007 to 2009. Currently, she is a fellow of the Royal Aeronautical Society and serves on the board of directors of the Washington, D.C., branch.
Geraldine Roman – Member of the Philippine House of Representatives from Bataan's 1st district
Geraldine Batista Roman was born on April 23, 1967. Apart from belonging to a family of well-known politicians in Bataan, she has made a lot of achievements through her own hard work. She is a journalist, politician, and the first transgender person elected to the Congress of the Philippines.
In 2016, she was named one of the 100 Leading Global Thinkers, a US-based Foreign Policy magazine. Added to that, she's also listed as one of the 13 Inspiring Women of 2016 by Time Magazine.
She got her journalism degree through a scholarship which she secured amidst the backlash that she has gotten from school bullies in her childhood. Before becoming a politician, she was a senior editor for the Spanish News Agency in Spain.
Ayako Fuchigami – Member of the Hokkaido Legislative Assembly, representing Sapporo's Higashi-ku ward
Born on January 16, 1975, in Ogi, Saga Prefecture, Fuchigami is the first openly trans person to hold a prefectural assembly position in Japan. She completed her postgraduate studies at Hokkaido University.
Before joining politics, she worked for the Ministry of Agriculture, Forestry and Fisheries in 2000. One of her main goals was to search for rice grains that could be farmed in cold locations.
When she was little, she already realized her attraction to boys, which she ignored for many years. It only changed when she started working as a show dancer at a club in Sapporo's downtown called Susukino district. Later on, she registered her first name as Ayako.
After the results of the election of the day when she won, she made a statement saying,
I want to return the favor to those who have supported me by working hard to create a society in which LGBT can be active.
Sarah McBride – Member of the Delaware Senate from the 1st district
Sarah McBride was born on August 9, 1990. She grew up in Wilmington, Delaware, to parents who are a lawyer for Young Conaway Stargatt & Taylor (David McBride) and a guidance counselor and founder of the Cab Calloway School of the Arts (Sally McBride).
McBride graduated with a bachelor's degree from the American University in 2013. Before being the first openly transgender state senator, she was actively fighting for human rights. She was previously the National Press Secretary of the Human Rights Campaign.
She is highly known for the passage of legislation in Delaware banning discrimination on the basis of gender identity in employment, housing, insurance, and public accommodations.Apart from her achievements in changing the lives of American trans people, she's also the author of the book Tomorrow Will Be Different: Love, Loss, and the Fight for Trans Equality.
Petra De Sutter – Federal Deputy Prime Minister of Belgium
Petra was born on June 10, 1963, in Oudenaarde, Belgium. Apart from being known as the first openly transgender Federal Deputy Prime Minister of Belgium, she also holds a medical degree and a PhD in biomedicine.
She spent two years after graduating from med school in the US and furthered her studies through learning about oocyte genetics. She earned her specialization in gynecology in 1994. She became a Professor in Reproductive Medicine at Gent University. In 2006, she was named Head of the Department for Reproductive Medicine of Gent University Hospital.
De Sutter was part of the Parliament's delegation for relations with the countries of South Asia (Bangladesh, Bhutan, the Maldives, Nepal, Pakistan, and Sri Lanka). She was also a member of the European Parliament Intergroup on LGBT Rightsand co-chaired the MEPs Against Cancer group.
Duda Salabert – Belo Horizonte City Councilor Incumbent
Duda Salabert was born in 1981 (Dates unknown) and she is best known as the first transgender person elected to the Belo Horizonte city council. She garnered 37,000 votes and her win became historical in Minas Gerais.
Apart from being a politician, she was also a teacher and is still an environmentalist. She shared that she received invitations to campaign for other offices. However, she chose the Senate as a form of provocating, and that the etymology of the term senate relates to men and that
if it is a space made for gentlemen, a travesti woman seeking this space is extremely provocative.
Audrey Tang – Taiwan's Digital Minister
Taiwan's probably the most forward when it comes to LGBTQIA+ rights in Asia. It is, after all, the only country in the continent that legalizes same-sex marriage.
Audrey Tang's government position is fairly new but it holds a lot of weight. The world's shift to digital has been drastic and swift and people nowadays are more influenced by information that can be found on the internet.
Gone are the days when people only subscribe to curated content for TV and Radio. Tang is also Taiwan's youngest person to hold a ministerial position. As a minister, she has pledged to give preferential access to government contracts to social enterprises.
Brianna Westbrook – Former Vice-chair of the Democratic Party of Arizona
Brianna Westbrook, a captivating figure in American politics, has crafted a narrative that showcases resilience, courage, and unwavering commitment to public service. As a transgender woman, she has shattered traditional political norms and has emerged as a compelling advocate for progressive reform.
Westbrook's journey in politics has been characterized by a tireless pursuit of social justice and equality, inspiring many with her bold and compassionate leadership. She first rose to public attention when she ran for the U.S. House of Representatives in Arizona in 2018, making her one of the first transgender women to run for national office.
Though she didn't secure the seat, her campaign undeniably struck a chord and sent a powerful message about the increasing inclusivity of American politics.
Her influence as a transgender politician extends beyond her own campaign efforts. As Vice Chair of the Arizona Democratic Party, she has worked relentlessly to amplify marginalized voices and champion policy initiatives aimed at improving the lives of the disenfranchised. 
Her advocacy for LGBTQ+ rights, affordable healthcare, and climate justice reflects her deep-rooted belief in equality and fairness. Moreover, her presence in politics as an openly transgender woman is a testament to the growing recognition of diverse identities in public life.
Brianna Westbrook's journey serves as a reminder that representation matters, and her dedication to public service continues to inspire a new generation of inclusive leadership in American politics.
These are just some of the trans people in politics around the world. If we missed your favorite trans politician, please feel free to suggest them in the comments section below.
As a trans person, you must not lose hope. There are people who share the same sentiments and stories working hard to change the norm. Keep fighting for trans rights. Share this article and spread the Trans Power!