Loiy & Carlos their success story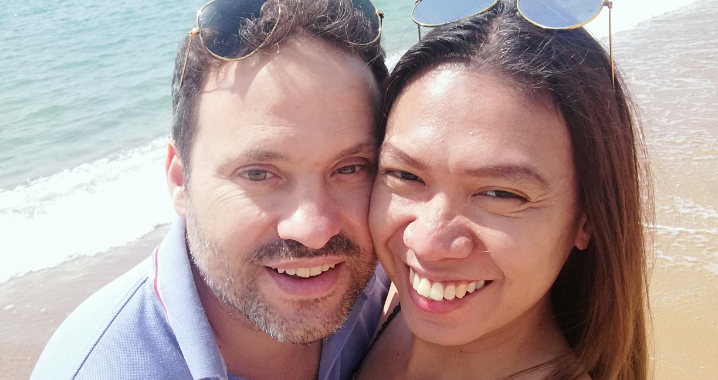 "Online dating is not for everybody, that's for sure. But your site is highly recommended because it is a very clean one and you are guaranteed to find someone who is genuine and not only after one night stands or money."

Carlos, Spain
Hello Maki, Loiy and I are already married through powers and she got the permanent visa so ...... yeah! We are living together in Spain since 24th December. The relationship is very good, we love so much each other. I just commented your email to Loiy and she told me she will prepare our succesful story, she always take some time to do things hahahhaha. So be patient, you will have news about us..... I send you a photo just from yesterday in the Mediterranean Sea....... She's learning spanish and doing very well, so in some time she can find a job for herself here, get the spanish nationality only takes 1 year for philippinos here, so we are really happy with the situation.

Greetings to all the staff!!!

Loiy, Philippines
Hello Cyril and Maki and to every one in your team.

I would like to thank each and every one of you who has been working so hard in this site.

I don't use this site anymore but that is simply because I have already found the man of my dreams. And in fact, we are now married.

Thank you for creating this site. You were our cupid. It was because of your site that my husband and I found each other. Never had I imagined I would finally find someone, or even getting married. Being a transgender woman in a world full of labels is never easy, especially in dating and finding love.

I am so happy to have found the love of my life and be married with him. His name is Carlos, also a subscriber of your site. He is such a gentleman, sweet, honest, responsible, funny, smart, gorgeous, and hardworking: every thing in a man a girl could ask for. We started off in a long-distance relationship. It was challenging. It was a roller coaster. But in the end, it was all worth it. After 3 trips to the Philippines and one surprised unforgettable wedding proposal, here we are. Now we are living together and everything just gets better and better as days go by. I find myself falling in love with him more and more. He is all I ever want and I can't see myself being with someone else. I never thought I could be this happy. He never stops making me smile and feel happy. He makes me feel so blessed. Now we are both more than happy and in love than ever.

Online dating is not for everybody, that's for sure. But your site is highly recommended because it is a very clean one and you are guaranteed to find someone who is genuine and not only after one night stands or money.

Thank you again. To all of you. And I wish you success in all your aspirations and endeavors.

PS I have attached one photo of us, would you wish to see.

xoxo,
Loiy
Our best wishes to the lovely couple! ❤️💜💙
---
Want to live your own success story?
Build your profile and start dating now!
Tell us your story
We'd love to hear from you! There is nothing more rewarding for us than reading your success stories.
You are the living proof that love really knows no gender. And it's so inspiring for the singles.
Tell us your story