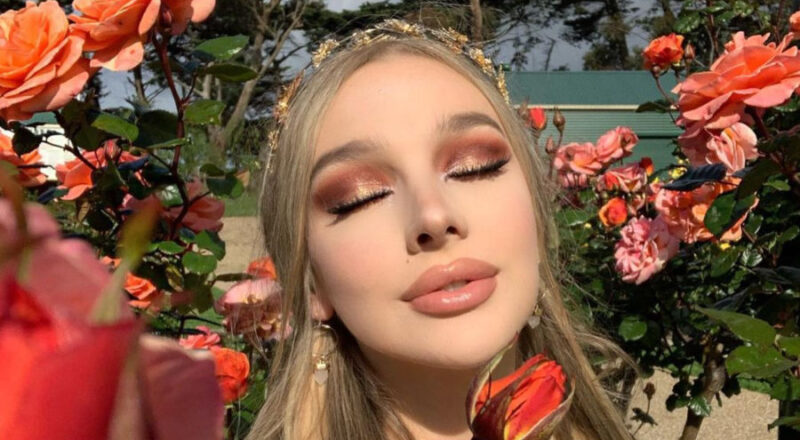 TikTok Transgender Women Worth Following
This post was last updated on .
One of the factors that propelled TikTok the most was the COVID-19 pandemic. Because it's a fun and interactive app that anyone can utilize from home, many people have joined its bandwagon.
From dances, storytelling, memes, informational videos, short teasers, transitions, lip syncs, etc., any type of content is easily consumable in this mega-hyped app. Along with its rise was the cultivation of transgender TikTok stars, who not only entertained the masses but also inspired them and gave them a look at what it's like in the life of a TikTok Transgender girl.
Today, we're going to introduce you to the trans women of TikTok and why you should follow them.
Devin Halbal @hal.baddie
This stunning young woman is known for her lines "Met Gala Behavior", "Doll Check-in", and "Elevate". And she's also famous for proudly working her selfie stick everywhere she goes.
Not only is she serving face all the time, but she's also serving looks through fashion and her knowledge in architecture. Her feed is mostly about her travels and fashion, alongside quotable quotes that inspire people from all walks of life.
She's from New York but is currently traveling in Turkey and making her followers envy her destinations and bouts with baklava and knafeh. Although she seems like a quirky and happy-go-lucky woman, what a lot of people don't know about her is that she's a hate-crime survivor that resulted from transphobia.
Devin was kicked in the face in a train car in New York by a stranger and screamed "Death to all f*ggots" right after the physical incident.
Grace Hyland @grace.hylandd
She's one of the most beautiful TikTok transgender women and what's interesting about her, apart from her stunning looks is that she shares her transitioning journey with the public.
This gorgeous Aussie creates many funny TikToks that mirror the foolery that trans women experience from ignorant and transphobic people they encounter in their daily lives and on social media.
Her contents are mostly trans-related and she shares the spotlight with many of her trans friends who appear in her TikToks regularly.
Grace also likes to change her looks and she serves a lot of gorgeous makeup and hair looks that will truly keep you hooked into scrolling through her feed for hours.
Lauren Sundstrom @laurengsundstrom
If you're more drawn to elegance, Lauren is the transgender TikTok star that you should follow. Famous for her pixie haircut and piercing blue eyes, this Canadian beauty will captivate you because of her intelligence and unapologetic views in life.
Like Grace, Lauren shares many anecdotes of what it's like to live as a trans woman in today's world. But instead of sharing the spotlight with her transgender friends, she often shares it with her partner.
One of the TikToks she often publishes is her "Welcome to a day in the life of a trans woman living in Vancouver" series wherein she shows her audience where she lives and her daily activities.
She also creates many fashion and skincare content that is chock-full of information for all women from all walks of life. She also has one video called "Trans HERstory" wherein she talked about Caroline Cossey, the first transgender woman who appeared in a James Bond movie and playboy magazine.
Ilya Selyn @ilyaselyn
People who are drawn to other-worldly beauty will naturally gravitate to Ilya. She's a transgender woman from the US who's known for making a lot of TikToks about what it's like to live as a trans woman while showcasing her sculpted body through glamorous and provocative clothes.
But her looks are not the only factor that made her gain more than a million followers, people enjoy her humor as well. What makes her different from the majority of trans women on TikTok is that she's openly bisexual and she makes a lot of content about it.
Most people are confused about the possibility of being a transgender woman and still being attracted to women. The stigma and confusion around it are what she's trying to break through the means of her social media presence and influence.
Maria Kutsinta @mariakutsinta
If you're a transgender woman from the Philippines, you've probably come across Maria Kutsinta's hilarious videos. From her educational videos about the Filipino language, her series about being a sugar baby, and her bouts with transphobic trolls and bashers, one will have a really hard time resisting clicking the follow button.
But apart from her comedic talents, she's actually a registered nurse, actress, and is also formerly known on YouTube as Destiny Maylas. Using her old social media handle, she educated many trans people all over the world about the proper approach to medically transitioning and hormone replacement therapy.
However, most of the videos that she uploads lately are her, speaking in her vernacular language, and if you don't know how to speak or comprehend the Filipino language, you may not be able to grasp her content.
Yoshi Rinrada @yoshirinra
Dubbed as one of the most beautiful trans women in the world, Yoshi Rinrada truly deserves all of the accolades and opportunities she's getting as one of the top models in Asia.
What's more fascinating about her is that she has shared her photos before transitioning and she looks exactly the same. This feat made the masses gush more about her because she possesses what most people call natural beauty.
Sunny L @sunnylcomedy
If you're into comedy, HRT information, and activism, you're going to love Sunny L's feed. She's a standup comedian who has over 200,000 followers on TikTok alone. A lot of her content is tropes that a lot of transgender women relate to. This is why she's gaining staggering followers consistently.
But apart from her comedic chops that were instrumental in the majority of her numbers, she also discusses a lot of political issues. These are short educational bits for the welfare of transgender people in America.
Dylan Mulvaney @dylanmulvaney
Mulvaney's journey to success began in the theater, where she toured North America as a prominent cast member of the renowned musical "The Book of Mormon." However, when the pandemic halted in-person events in 2020, Mulvaney embraced the digital stage and found her voice on TikTok.
During the pandemic, Mulvaney's TikTok presence flourished, and in March 2022, she made a courageous and empowering announcement – coming out as a trans woman. Although initially apprehensive and feeling a sense of shame about identifying with the binary, she candidly shared her journey with fans.
Embarking on a groundbreaking journey of self-discovery, Mulvaney courageously began her TikTok series "Days of Girlhood", sharing almost every step of her transition with her audience. From her experiences with hormone-replacement therapy to facing opposition from anti-trans adversaries and the emotional aftermath of her facial feminization surgery (FFS), she fearlessly documented the highs and lows of her path to authenticity.
Throughout her transformative journey, Mulvaney encountered significant milestones that left a lasting impact. On day 221, she displayed her unwavering commitment to advocacy by interviewing President Joe Biden for Now This News. Fearlessly addressing the important issue of gender-affirming health care bans, Mulvaney's question resonated with the President, who expressed his support and shared the personal influence of his late son, Beau Biden, in advocating for trans rights.
Did we miss any of your personal faves in this list? Kindly write your suggestions in the comments below!