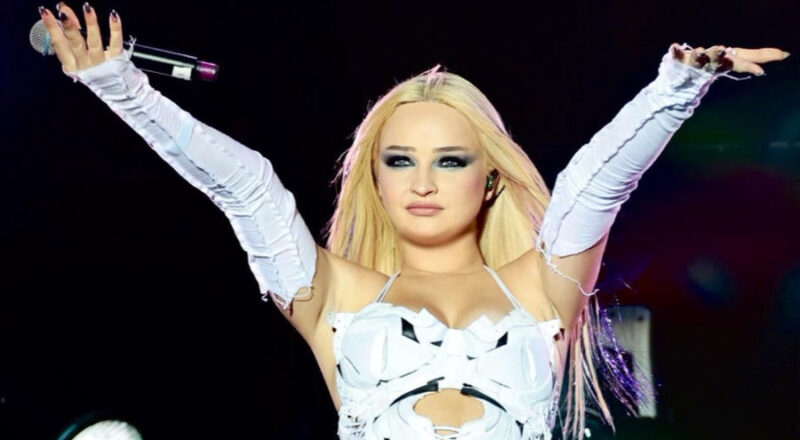 Kim Petras, First Openly Trans Person With A Billboard Top 1 Hit
This post was last updated on .
Kim Petras has recently made history as the first openly transgender person to have a Top 1 Hit on the Billboard Hot 100. It was made possible by her collaboration with Sam Smith, an openly nonbinary singer.
The song that reverberated from American speakers throughout the Fall of 2022's was no other than their hit song, Unholy. The message is about the infidelity of a family's patriarch who enjoys partaking in lascivious unholy things.
After hearing Kim's voice for the first time, an influx of questions asking Who is Kim Petras flooded the internet. Keep reading to get to know more about the successful transgender pop star.
Kim Petras' Humble Beginnings
Childhood
The 30-year-old beauty was born on August 27, 1992, in Cologne, Germany. She can speak several languages and she's mostly fluent in German and English.
Just like her, her mother works in the arts as a choreographer and an artist. Her father is an architect and she only has one sibling, a sister who's also singer.
She expressed early signs of being transgender at the early age of two. Her parents shared that she insisted that she was a girl at a young age. Being supportive parents, they dressed her in gender-neutral clothing as a kid.
Shortly after, they sought professional help in Germany to address her transgenderism. Luckily, they found Bernd Meyenburg who was the head of the children's clinic at Frankfurt University. His knowledge about transsexuality goes back to the 70s.
Education
Most of the information about Kim Petras when it came to education is negative memories. She shared that her teachers kicked her out of the class for expressing her femininity by wearing female clothing.
At the age of 10, she was bullied in their school's playground.
Transition
For the ones who are asking, is Kim Petras trans, yes, she is.
One of the most worrying symptoms of gender dysphoria was that when she was five, she got a pair of scissors expressing her want to cut her former male genitalia off. She also expressed her panic when she started growing a beard during her puberty years.
Her transition isn't like any other as hers was widely broadcasted. At the age of 14, during a talk show, she announced her then-impending plan to undergo gender-reaffirming surgery. News outlets in Germany turned her into a media sensation brought upon by the novelty of anyone undergoing the surgery at a very young age.
Moreover, she was below the minimum age of 18 at that time which resulted in the news spreading like wildfire—even gaining international media attention. At that time, she was touted as the "world's youngest transexual".
Career
Her journey in the entertainment industry didn't start with music. She first took modeling gigs back in 2017 and her photos were used on different chains of hair salons in Germany.
2008 was the beginning year of her music career. She released the singles:
Fade Away
Last Forever
Die For You and
Boomerang
All of those songs were under Joyce Records. She also released her EP called One Piece a Tape, under the imprint Bionic Ballroom. Although she didn't get much out of her earlier work, she persevered and in 2013, she was featured by German DJ Klaas. He's a popular DJ in Europe who included Petras in two popular club singles called Heartbeat and Flight to Paris.
Kim Petras the Pop Star and Icon
Some of her earlier collaborations before gaining recognition from Billboard were with:
The Stereotypes
C.J. Abraham
Stephen Dresser
Johan "Jones" Wetterberg
Edward Ellis and
Aaron Joseph
These SoundCloud hits were instrumental for Billboard to rank her at the 19th spot on their 2013 Artist's Chart. Thanks to her active contribution to Social Media and her passion for music.
Beginning of Stardom
August, year 2017 proved to be the beginning of her stardom when her hit I Don't Want It All reached Spotify's Global Viral Chart. Two months later, a music video for her hit appeared where Paris Hilton made a cameo and helped her reach more listeners.
The world's largest music streaming platform also named her a RISE Artist the same year. It's a program where artists are identified to be in the next wave of new superstars.
The Paper magazine also named her as one of the artists who would dominate the charts the same year. She continued releasing music from 2017 and touring with other artists. Some of her notable hits are from those years were:
Heart To Break
Sweet Spot
All I Do Is Cry
Icy
Turn Off The Light (Album)
Broken Glass (Featured)
Party Till I Die
Reminds Me
Superstardom from 2020 and Beyond
She collaborated with many new artists and music producers in 2020. Remixes of songs by Studio Killers, Charli XCX, and Ely Otto were just some of the few.
One of her biggest career moves was when she signed with Republic Records. Her first lead single with them was Future Starts Now which she performed on the MTV VMA's 2020. She also performed Coconuts, the one that got a lot of demand from her first album with them along with her other song Hit It From The Back.
First Number 1 Billboard Top 100 Hit
Finally, in 2022, Kim Petras, along with Sam Smith, made history as the first openly transgender and non-binary individual to achieve a number 1 Billboard Top 100 Hit. This means that their song has been streamed and bought by millions of people in the USA.
Moreover, their hit wasn't only a chart-topper in America. It also reached the same status in the countries:
Australia
Austria
Bulgaria
Canada
Greece
Hungary
India
Ireland
Lithuania
Luxembourg
Malaysia
Netherlands
New Zealand
Singapore
Slovakia
Turkey
and the UK
Kim Petras' Reaction To The Support for Unholy
In an interview with Billboard, she thanked everyone who listened and bought the single. She also expressed her gratitude to Sam Smith.
Sam I can't thank you enough for riding with me for years at this point. I'm so honored to be a part of your first number one in the US which you should have 500 of at this point. I love you forever angel Sam.