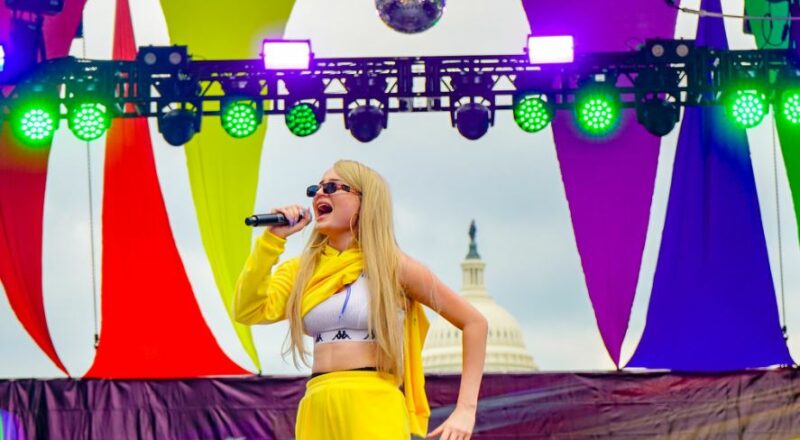 The World's Famous Transgender People
This post was last updated on .
No matter how discriminatory the world's climate is against transgender people, they still push through and flourish. Beyond the stereotypes, underestimation, and negativity that surrounds transgender individuals, there's light.
Today, you'll be introduced to a lot of famous transgender people.
This resource did not only collect famous transgender women. No matter what your gender is, if you're looking for inspiration, keep reading.
Music
Music has a world of its own and it's one of the forms of art that's quite easy to relate to. It not only shows beauty nor its ornamental, it can touch people's hearts.
With the ongoing pandemic, music is deemed a necessity by a lot. Sometimes, it's so powerful that it can cure heartbreaks and help someone get through the passing of a loved one.
Kim Petras
She's a pop star from Germany. She rose to fame from a German documentary show which discussed her medical gender transition. However, gender reassignment surgery and hormonal care aren't the only reasons why she's well-known in the media.
She's also one of the most sought-after singers and songwriters in the music industry.
Her songs are not only popular in Europe as she has chart-toppers in the US Billboard. Kim sings a lot of EDM, pop and electro-pop songs
Her beautiful face and voice have also made it possible for her to achieve success. She has also collaborated with hitmakers such as Charli XCX, Jesse St. John and Sophie
Harisu
While Kim Petras is popular in the west, Harisu is the pioneer for other famous trans women in the music industry in Asia. She rose to fame from a commercial in South Korea for a cosmetics company. In 2001, she became a household name and expanded her modeling career into the music industry.
Her gorgeous visuals helped propelled her to further success as a popstar who mostly sings techno and R&B songs. However, her music career was short lived as she pursued another path which is to become an actress.
Lucas Silveira
He's the first transgender man to be signed by a major record label. His band, The Cliks, has released hits such as Dirty King, Complicated and Oh Yeah.
He was born in Canada to Portuguese parents. In his younger years, he attended Catholic schools.
Apart from singing in English, he's also fluent in Portuguese. His band's work appeared in the hit TV show "The L Word" and has collaborated with Cyndi Lauper, The Weeknd and Hill Kourkoutis.
Movies
A lot of famous trans people exist in the movie industry. You'll be surprised most especially if you're not following a lot of transgender celebrities on social media. Please know that this article can't accommodate everyone. If you feel like the list is incomplete, kindly enlist their names in the comments section.
Going back to movies, not only are these transgender individuals present in the spotlight. Some of them have created box office hits. Without further ado, you have to get to know the famous…
Wachowski Sisters
Lana and Lilly Wachoswki are sisters and both happen to be transgender women. They were born in Chicago, Illinois, USA. They're a team that writes and directs movies and one of their biggest box office hits is the movie "The Matrix", which starred Keanu Reeves.
They're also known for:
V for Vendetta
Speed Racer
Jupiter Ascending
Sense8
Cloud Atlas
and more
When asked about their influences, Lana said that they both grew up enjoying comic books, the Tolkien trilogy to be exact. They added that they also draw inspiration from anime shows.
Alexis Arquette
Alexis, also known as Eva Destruction, is a transgender actress. She also belongs to the Arquette family which is known to be a family of actors in the United States. She's also the sister of Patricia Arquette and David Arquette which are regular names in Hollywood.
Her filmography is quite expansive but she's most known for her appearance in Pulp Fiction. She has also appeared in the movies "The Wedding Singer", "Children of the Cord V: Fields of Terror" and "Bride of Chucky".
Trace Lysette
She is one of the hottest transgender celebrities in Hollywood right now. Trace's stunning looks are hard to miss. She started as an actress on TV; appearing on the hit shows:
Transparent
Law & Order
I am Cait
Pose
and more
She also made an appearance in the music video for Maroon 5's and Cardi B's hit song "Girl Like You".
Trace's latest work for movies was for the 2020 Netflix Documentary, Disclosure: Trans Lives Matter. She has also appeared in the box office movie Hustlers in 2019, which starred Jennifer Lopez, Constance Wu, Julia Stiles, Keke Palmer and more.
TV
Transgender people have yet to conquer the movie industry but when it comes to TV, they're already making a lot of history. The reason being is because a lot of them are in movies but are not given major roles. When it comes to television, it's a whole different story.
Laverne Cox
She has made numerous strides in the entertainment industry. Laverne is one of the most respected and sought-after names in Hollywood today. She's not only popular for starring in hit TV shows, but she's also famous for her inspiration and political statements.
She's born on May 29, 1972, in Alabama, USA, and a graduate of the Alabama School of Fine Arts. Laverne became a household name for playing Sophia Burset in the hit TV series "Orange is the New Black".
In 2015, she became an Emmy winner for producing Laverne Cox Presents: The T Word and is the first openly transgender person to receive an Emmy nomination for acting.
Caitlyn Jenner
Caitlyn Jenner's rise to fame is a bit controversial. She started as Bruce Jenner, a famous Olympian and the patriarch of the hit reality TV series Keeping up with the Kardashians. While still filming, she came out as a transgender woman. Her revelation was broadcasted to hundreds of millions of viewers around the world, along with her cover photo reveal for Vanity Fair magazine which cited the subtitle "Call me Caitlyn".
Along with the praises come the criticisms. However, her coming out truly helped in bringing transgender issues to light amidst all of the negative press. She continued filming for Keeping up with the Kardashians, showing the world how her family coped up with her transition.
She also starred in her own reality TV show "I am Cait" subsequently to give the fans a closer look at her real self.
Another trans athlete named Balian Buschbaum is making a name in the sports industry.
Candis Cayne
Candis Cayne also appeared in Caitlyn Jenner's reality show. She was introduced as her girlfriend. But before the trans dating factor, she's already making a name for herself as a TV actress.
She's born on August 29, 1971, in Maui, Hawaii, USA. She started her career by performing in NYC nightclubs doing drag and came out as a trans woman in 1996.
She rose to fame after playing Carmelita, a mistress for ABC's hit show Dirty Sexy Money.
Hunter Schafer
Her star has definitely shined bright in 2022 when Euphoria became of the most talked-about TV shows. Because the majority of cinemas are still closed, TV series are getting more attention and because Euphoria is so thought-provoking, partnered up with her flawless interpretation of her character Jules, she's one of the hottest transgender celebrities in Hollywood.
Apart from being a prime actress, she's also a top model. She has worked for many top-tier brands such as Prada, Dior, Calvin Klein and more.
Arts
Famous trans people in the arts are very important. They may not appear in mainstream media and aren't quite accessible but artists deliver messages that cannot simply be replicated in other avenues. There are many famous transgender people in the arts as well.
Amos Mac
Amos is a photographer based in New York City. He's also a writer and publisher for Original Plumbing and Translady magazines. What makes him stand out from other photographers is his natural talent in capturing the beauty of transgender women.
His skills are quite celebrated, so much so that his images have already appeared in Vogue, The New York Times, OUT and other popular magazines.
He has also collaborated with Juliana Huxtable and Zachary Drucker and has worked for H&M advertising campaigns.
Cooper Lee Bombardier
He is known for being a writer and a visual artist. HuffPost included him in their list of 10 Transgender Artists Who are Changing the Landscape of Contemporary Art.
Before being an artist, he took jobs as a:
welder
dishwasher

union stagehand

cook
carpenter
house painter
and truck driver
His wide range of experiences has come together in making him the celebrated artist he is today. He explained to HuffPost that his work,
is concerned with themes of gender, masculinity and manhood; survival, resiliency, and healing; juxtapositions of culture and identity; and the physical experience and positioning of the queer body in the world; labor and how what we do for money shapes who we are. My work is about journeys: on the road, in community; of body and heart; and the never-ending search to know oneself.
Politics
The presence of famous trans people in politics is VITAL. They are the voice for transgender people to live in a safe, fair, and loving environment. Without transgender politicians, it's going to be harder for trans people to live a life free of marginalization, violence, and harassment.
Geraldine Roman
Geraldine is the first openly transgender individual in Philippine politics. She's a congresswoman who constantly fights for transgender rights, human rights, and equality.
Because of her strides in protecting transgender women who have been harassed in her country, certain acts have been imposed.
Laxmi Narayan Tripathi
Unlike Geraldine, Laxmi doesn't hold a job in the office. However, she's the first transgender individual to represent Asia Pacific in the UN in 2008. She's also a well-known human rights activist in India and has appeared in numerous international documentaries.
Because of the fights that she has done for her people, India recognized transgender people as part of the third gender; which enables them access to better opportunities and protection from gender-based discrimination.
Sarah McBride
Sarah McBride is the first openly transgender individual who has held the highest position in the office. She won in the state's senate race in 2019 and is set to be sworn in January 2021.
She started her political career as a campaign staffer in Delaware, working closely with Attorney General Beau Biden.
Others
Some famous transgender people are known in other industries while others are known for multiple industries. Below's a list of names that did not make it in the mentioned categories above.
Valentina Sampaio
Valentina is a famous trans model. She has reached a lot of heights in the modeling industry. One of these is becoming the first transgender woman to appear on a Vogue magazine's cover.
She's also the first openly transgender Victoria's Secret model and Sports Illustrated Magazine cover girl.
She has also gone through gender reassignment surgery.
NikkieTutorials
NikkieTutorials or Nikkie de Jagger is a dutch Youtuber. She's one of the top makeup gurus in the world and has more than thirteen million followers on Youtube.
She has been quite popular on social media for many years before finally revealing that she's a transgender woman in 2020. Her revelation (her I'm Coming Out video on Youtube) was abruptly uploaded due to an ex-friend blackmailing to expose her gender identity.
In the revelation, she briefly talked about her transition including her gender reassignment surgery.
Jazz Jennings
Similar to Kim Petras' start in the entertainment industry, she rose to fame when a documentary about her life as a transgender child transitioning premiered on TLC. Her show was watched by millions of curious Americans on what it's like to discover one's gender identity at a very young age.
Currently, she's active in social media as an activist and a star. She has over a million followers on Instagram.
Nikita Dragun
Also known as Nikita Nguyen, is one of the most controversial trans YouTubers in the social media entertainment industry. She rose to fame through her iconic makeup tutorials and stunning looks.
She has worked with many A-list celebrities such as Kim Kardashian, Paris Hilton, Iggy Azalea, and more.
Although her star proves to continuously shine bright, many people keep canceling her because of her antics and the mishaps that she stumbles into. Most recently, she was accused of blackfishing for how she dresses up and does her hair and makeup.
Laith Ashley
Born on 1989, Laith Ashley De La Cruz is the most popular transgender hunk in the modeling industry. He has worked with many world-renowned brands including Calvin Klein and Diesel. His career also led him to work with the top photographer David LaChapelle.
Many fashion magazines made a buzz around his looks, including Vogue France, British GQ, Elle UK, and Out Magazine. Laith doesn't only use his fame to pose for the cameras. He's also an activist championing transgender rights and he also dabbles in acting and music.
Teddy Quinlivan
Teddy Quinlivan, a shining beacon in the fashion industry, has captivated audiences with her unique sense of style and powerful runway presence. Her journey is a vibrant tapestry of resilience, strength, and self-discovery, making her an iconic figure in the modelling world
Since her public disclosure as a transgender woman in 2017, she has continued to shatter glass ceilings, emerging as one of the top models in the industry and a vocal advocate for the transgender community.
With her signature gaze and edgy sophistication, she has graced the pages of international fashion magazines and walked for leading fashion houses such as Chanel, Louis Vuitton, and Versace, redefining the norms of beauty and inclusivity.
A fierce catalyst for change, Teddy's impact extends far beyond the runway. Her personal narrative, defined by authenticity and courage, has stirred vital conversations about inclusivity and representation in fashion. As the first openly transgender model to be hired by Chanel, she has set significant milestones, paving the way for more inclusive representation in the industry.
Are there other famous trans people you'd like to see on the list? Feel free to write your suggestions in the comments section below.