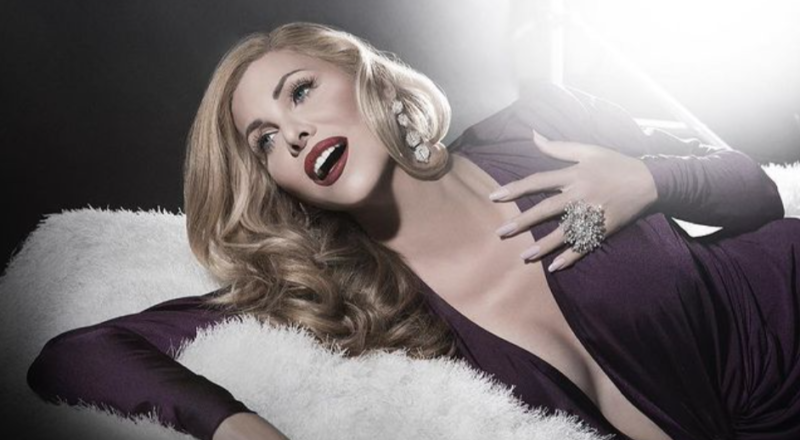 Top Trans Actors You Should Know About
This post was last updated on .
Transgender representation in mainstream media has always been problematic, especially since the most common tropes that have been made popular often portray transpeople – and especially transwomen – in a negative light. But there are exceptions to this depressing trope. Some might surprise you, and others you may already know.
Late 2018 to 2019 was a good year for positive representation of transgender actors in mainstream media, but in spite of that, so few of them are actually household names. Here's a list of our top picks for the best trans actors you should know.
Caroline Cossey
British model Caroline, better known in the early to mid-1980s by her stage-name 'Tula', was the first ever transwoman to have been featured as a Bond Girl in the 1981 James Bond flick For Your Eyes Only. She instantly became a sensation. But with this new-found fame, she would also be mercilessly harangued by tabloids. Years prior to starring in For Your Eyes Only, she took part in the game show 3-2-1 while she was living in stealth.
After being featured in the Bond film, a tabloid released an article outing her, which caused a lot of difficulty for her due to the controversial nature of transgenderism at the time. This didn't stop her rise to fame though, since in 1991, she became the first transwoman to ever be featured as a Playboy Playgirl. To this day, she actively promotes and supports trans-rights advocacies.
Carmen Carrera
Carmen Carrera is a transgender reality TV personality who made it big in season three of the notoriously popular show RuPaul's Drag Race. While she is known for participating in the show, both as a competitor in its third season and as a 'drag professor' in the second, Carrera really takes the spotlight on her unwavering transgender activism.
Not only is active in AIDS awareness and activism campaigns, but she also staunchly advocates for transgender rights and protections.
She became known for speaking out against RuPaul and his casual use of the slurs 'tranny' and 'shemale', as well as her critique of an insulting transphobic prank done to her on the TLC series Cake Boss. Although Carrera represented herself as a transvestite early on, she would later come out as trans (by the end of RuPaul's Drag Race Season 3).
Candis Cayne
American performance artist, actress, and activist Candis Cayne is most well-known for playing the character of Carmelita on Dirty Sexy Money. Before landing it big on the primetime show, Cayne worked as a choreographer and drag performer in New York City. It was during her stint as a performer that she would come across the term 'transgender', which would inspire her to pursue gender transition.
She is one of the most prolific trans actors today, having starred both pre-and-post transition in a number of films and TV shows since 1995, including:
And several TV series, including:
Nip/Tuck
Elementary
Transparent
The Magicians
Grey's Anatomy
She also made guest appearances in the first and second seasons of Caitlyn Jenner's TV reality show I Am Cait. Although she is active in trans-rights activism, she prefers to keep a low profile, opting to make her visibility the cornerstone of her activism.
Jamie Clayton
Notoriously known among the LBGTQIA+ sci-fi fandoms as the lovely woman who played master hacker and political blogger-slash-trans activist Nomi Marks in the Netflix original series Sense8, she has become one of the most easily recognizable faces of trans representation in popular media.
Born in San Diego, California, she pursued a career as makeup artist at age 19, and was later featured as a co-host on VH-1's makeover show TRANSform Me, which featured a cast of all-trans makeup artists. She would later star in the TBS sitcom Are We There Yet? (2010) and the Emmy Award winning interactive web series Dirty Work (2012).
Her most well-known role in Netflix's Sense8 (2015) was motivated primarily due to her desire to involve herself in a project spearheaded by transwomen (the Wachowskis), representing strong, transgender characters played by trans actors.
Her film debut, The Neon Demon (2016), and the thriller The Snowman (2017) offered her the big break she needed on the silver screen. As of 2019 and 2020, Clayton would also take on two more serial roles as a recurring character in Netflix's Designated Survivor and in the Showtime Original The L Word: Generation Q.
Laverne Cox
American trans actress and activist Laverne Cox became a household name when she became a hit with her role as Sophia Burset on Netflix's series Orange Is the New Black. She is a pioneering transgender actor, being the first to ever be nominated for a Primetime Emmy Award, and the first to be nominated for an Emmy Award.
She first appeared as a contestant in the first season of VH1's reality TV show I Want to Work for Diddy, and would later co-produce and co-host the makeover TV series TRANSform Me, shown on the same network.
Cox is one of the most awarded trans actresses to date, also having been honored with the GLAAD Stephen F. Kolzak Award in April of 2014 for outstanding contributions to the transgender community. She's also the first transgender celebrity to be featured on the cover of Time magazine, and the cover of Cosmopolitan magazine. She is also the first openly trans person to have a likeness of herself displayed at Madame Tussauds.
Harisu
Lee Kyung-eun, more popularly known by her stage name 'Harisu', is the first ever openly transgender entertainer, actress, and activist to have made it big in South Korea. She realized she was trans at a very early age and decided to pursue gender transition early on.
In the 1990s, she underwent gender confirmation surgery, and in 2001 managed to launch her career after she appeared in a television commercial for DoDo cosmetics, where she showcased her transgender status.
The subsequent hit and the sudden rise of her popularity allowed her to break into two entertainment mediums – music and film. In that same year, she would land her first major acting role in the film Yellow Hair 2 (2001).
She would also star in a Taiwanese TV show called Hi! Honey (2004), and a Hong Kong art film Colour Blossoms (2004) directed by acclaimed film maker Yonfan. In 2002, she would become the second person in South Korea to legally change her gender and the first transgender person to do so.
Michelle Hendley
Michelle Hendley is an indie transgender actor, best known for her role as Ricky Jones in the cult trans romantic comedy-drama film Boy Meets Girl (2014). Prior to her big break in the silver screen, Hendley was a vlogger and YouTuber who documented her gender transition.
She would later be discovered by Eric Schaeffer – the director of Boy Meets Girl – who was looking for a transgender actor to play the leading role in the film.
The film would later become a surprising success, praised for its realism and sensitivity in handling the then still-obscure topic of trans lives. Hendley would later star in other films like:
She would also take on guest roles for TV shows like:
Crazy Ex-Girlfriend (2016)
Blindspot (2017)
and Insatiable (2018)
Isis King
Trans model, activist, actress, and fashion designer Isis King became a household name when she became a contestant on the eleventh and seventeenth cycle (2008 and 2011, respectively) of the hit reality television show America's Next Top Model.
A native of Prince George's County, Maryland, King knew early-on that she was transgender, although she prefers to describe herself as 'being born in the wrong body'. Although identifying as a gay man during high school, she quickly found out it wasn't accurate to what she was truly feeling.
She would quickly begin hormone replacement therapy early in 2007. Due to her family having disapproved of her transition, she was homeless for a time and moved into the Ali Forney Center for homeless LGBTQ youth. Before her big break in America's Next Top Model, she used to compete in underground ball culture (cross dressing).
Today, not only is she a renowned model and one of the most visible trans personalities on TV, she is also an actress, starring in the Netflix series When They See Us (2019).
Nicole Maines
transgender actress and trans rights activist Nicole Maines transitioned early in life. She first hit the spotlight when a book was written about herself and her family in 2015. Entitled Becoming Nicole: The Transformation of an American Family, authored by Washington Post writer Amy Ellis Nutt.
The book chronicled the struggles and small victories of the family, as they come to terms with Maines being a transgender woman and how it affects her and the way she interacts with society at large.
Prior to this, she and her family were at the forefront of a landmark case for trans rights protections – the Doe v. Regional School Unit 26 lawsuit – which came about when Maines and her family sued her school district for discriminating against her using the female bathroom due to the fact that she was a transgender woman.
Her current claim to fame is playing the transgender superheroine Nia Nal in CW's hit TV series, Supergirl – making the first trans woman to play a trans superhero in mainstream media.
Hunter Schafer
Up-and-coming trans actress Hunter Schafer is a native of Raleigh, North Carolina. The eldest of four siblings, she transitioned at an early age and was already presenting as female as early as high school. She became known for protesting against the North Carolina Public Facilities Privacy and Security Act, better known among the public as the 'HB2 bathroom bill'.
She is openly transgender, preferring to be upfront about her trans status rather that attempt to pass as cis. She has also said that she is more attracted to women than men, and would be considered more lesbian than bi or straight.
Her first acting debut came when she portrayed a transwoman in the ongoing HBO originals series Euphoria (2019). Schafer has likewise been prolific in the world of modeling, having modeled for brans like:
Calvin Klein
Dior
Tommy Hilfiger
Marc Jacobs
Versace
Vera Wang
Dominique Jackson
How can anyone not know Dominique Jackson? Even people outside of the trans community know who she is because of her fierce portrayal of Elektra Abundance-Evangelista, matriarch/queen of the House of Abundance of FX's hit TV series Pose.
Before bagging her breakthrough role, she appeared in various TV shows and movies.
Christopher Street: The Series (2009)
MY TRUTH, MY STORY: A Caribbean LGBTQ+ Oral History Project (2015)
Call Me (2015)
Strut (2016)
Apart from playing one of the television's most popular antiheroes, Elektra, she has also starred in American Gods and is confirmed to appear on another FX hit TV series American Horror Story.
There are rumors that she's going to play Storm for a Marvel Studios movie because of the incessant petition from her fans.
Angelica Ross
An inspirational dynamo in both the entertainment and tech industries, Angelica Ross is a celebrated transgender actress who has taken Hollywood by storm with her impeccable acting chops and unapologetic authenticity.
Rising to prominence through her riveting performance in the groundbreaking TV series Pose and the cult-favorite American Horror Story, she has made an indelible mark on the industry, becoming a potent symbol of transgender representation in mainstream media.
Beyond her successful acting career, she is also an accomplished coder, proving her mettle in the tech world, a field often characterized by gender imbalance and lack of diversity.
Recognizing this issue, she founded TransTech Social Enterprises in 2014, a pioneering organization aimed at helping transgender people gain access to technical training and employment opportunities.
Through her visionary leadership, TransTech has not only created an inclusive space for transgender people in the tech world but also enabled them to upskill, find meaningful employment, and become self-sufficient.
Positive transgender representation has been so hard to come by in the years leading to the present day. Negative stereotypes, a gross twisting of facts, and outright vilification have become the standard by which trans people – most especially transgender women – have been depicted in film and pop culture.
But thanks to these pioneering trans women, children growing up and coming to terms with their own gender identities can look forward to strong, powerful, beautiful and trailblazing role-models. This is one small step for trans rights and representation, but one gigantic leap towards true equity.